Mahamudra (Great Seal) course on the Dead Sea, Israel, December 2008
The
Great Seal
teachings are
Buddhism
's highest. They are aimed at the radiant and boundless space of our mind and expose what is beyond the mistaken separation between experiencer, experienced object and the experience itself. Discovering mind's nature gives us tremendous freedom, frees us from fear and fills us with joy. The wish to share this state of high bliss is the essence of compassion and is a natural outcome of overcoming the separation between I and other.
The world we live in (yes yes, even our Middle East) turns at once into a game, into visible and hidden expressions of deep wisdoms, into a field fertile with possibilities, and into an arena for performing beneficial activities.
Lama Ole Nydhal
, like his predecessors in the
Karma Kagyu
lineage of
Tibetan Buddhism
, shares with us this liberated state of mind and invites us to partake in the happiest adventure of all. The course will take place in Masada between the
20th and 23th of December
.
During the course Lama Ole will teach
Diamond Way
meditations, answer questions, and present a fresh and modern interpretation of the "Great Seal" text, originally composed by the
3rd Karmapa
around 700 years ago in Tibet.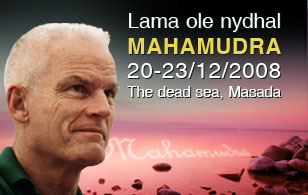 Details:
http://www.buddhism.org.il/eng/mahamudra2008.html